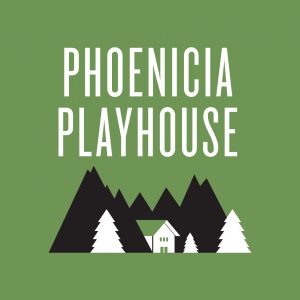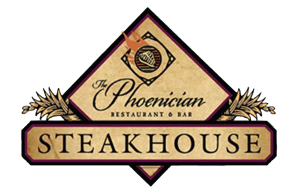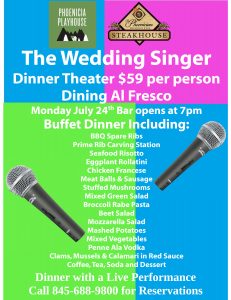 Halloween was a big hit when we partnered up with the STS Playhouse now with a new name The Phoenicia Playhouse. We are at it again and are having the very talented actors and actresses come over and do a show at the restaurant but instead this time we are dining Al Fresco. What could be a better time then a summer evening dinner and a show under the stars. The wedding singer will be a fun and cool 80's themed night to remember. Make reservations to come out to enjoy great food and a great show.
The Wedding Singer
Dinner Theater $59 per person
Dining Al Fresco
Monday July 24th Bar opens at 7pm
Show begins at 7:30
The Buffet will open during intermission and
will stay open for the remainder of the show.
Buffet Dinner Including:
BBQ Spare Ribs
Prime Rib Carving Station
Seafood Risotto
Eggplant Rollatini
Chicken Francese
Meat Balls & Sausage
Stuffed Mushrooms
Mixed Green Salad
Broccoli Rabe Pasta
Beet Salad
Mozzarella Salad
Mashed Potatoes
Mixed Vegetables
Penne Ala Vodka
Clams, Mussels & Calamari in Red Sauce
Coffee, Tea, Soda and Dessert
Dinner with a Live Performance
Call 845-688-9800 for Reservations